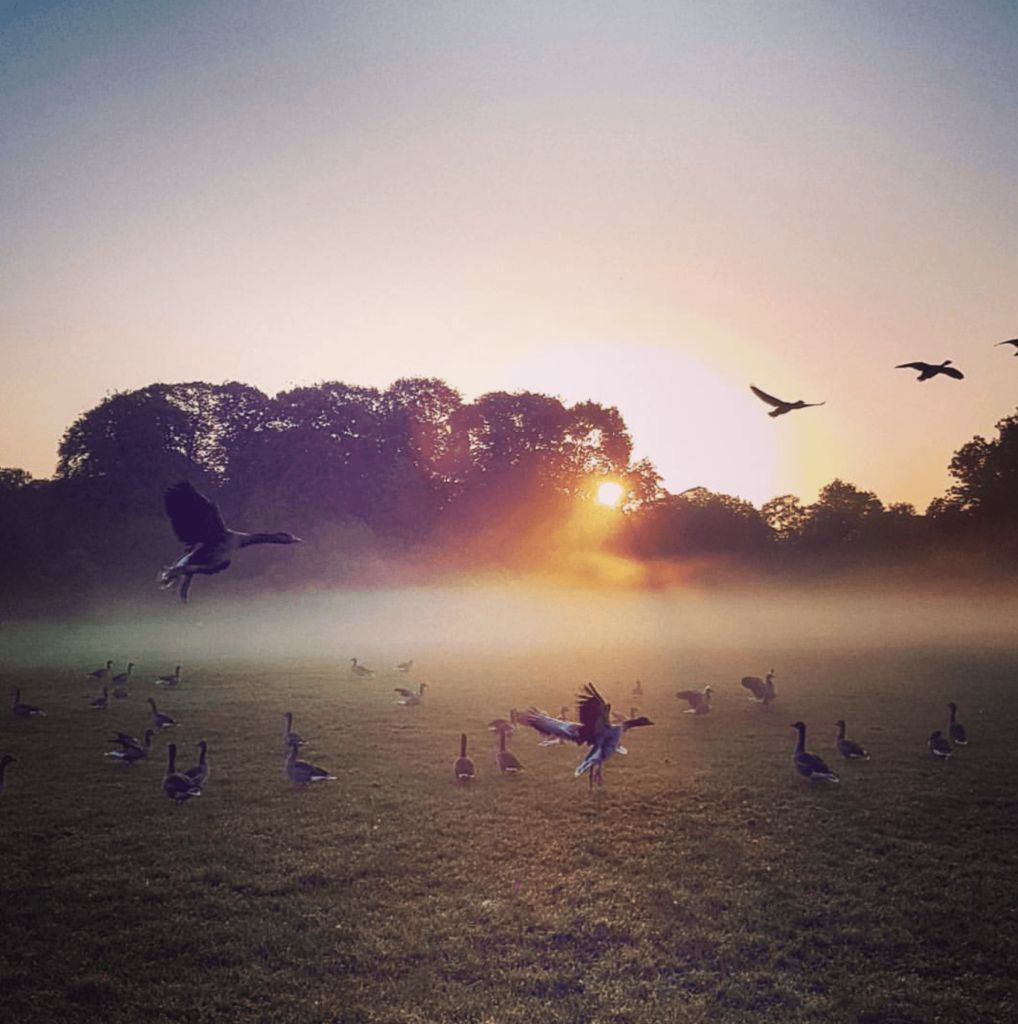 EARLY MORNINGS IN ENGLISCHER GARTEN
… you never know what will happen when the sun comes up…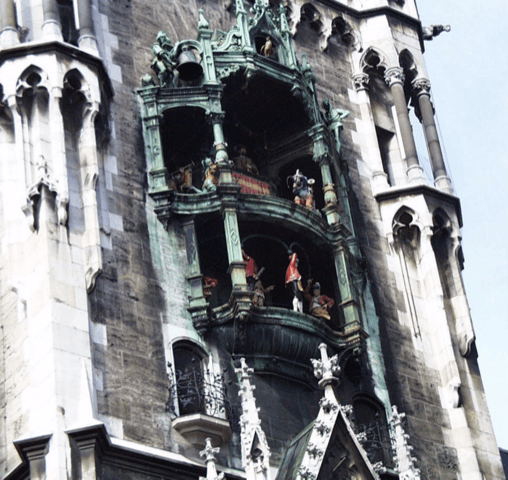 GLOCKENSPIEL
Ok, so this one's a classic. 43 bells and 32 life-sized figures recount the famously lavish wedding of Bavarian Duke Wilhelm V in 1568. The party lasted two entire weeks and took place on Marienplatz, above which the clock is mounted – on the city hall's facade. The action takes place three times daily: 11 am, 12 noon & 05 pm.
Marienplatz, city center
atlasobscura.com/places/rathaus-glockenspiel
Get Directions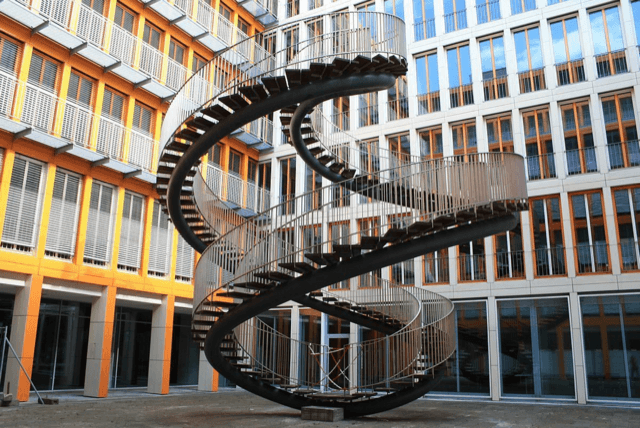 STAIRWAY TO HEAVEN…?
Hidden within an office building in Munich, a staircase seemingly leads you up… to nowhere. "Umschreibung" is in fact not a staircase at all, but an ominous sculpture by Danish artist Olafur Eliasson.
Ganghofertsrasse 29
Get Directions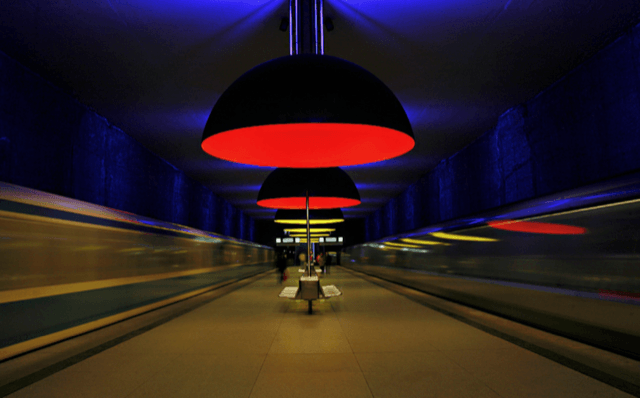 WESTFRIEDHOF
This subway station is considered one of the most beautifully designed metro stations in the world. Not sure what the fuss is all about about, actually. But feel free to look out the window should you be travelling on the U1 line. Alternatively, take a pic with your face in it, if you're in town to accumulate more likes.
Westfriedhof (U1)
Get Directions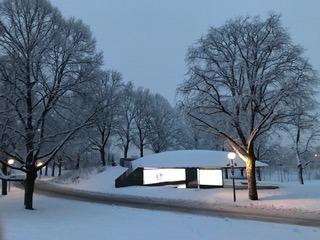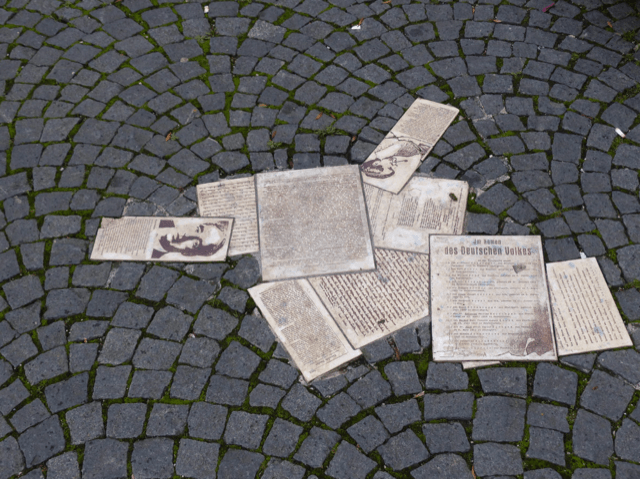 WEISSE ROSE MEMORIAL
These bronze pamphlets remember a remarkable group of Germans who fearlessly opposed the Nazis in the very center of their power. There are a number of memorials to the White Rose scattered throughout Munich, though the most powerful reminder of their deeds can be found embedded in the cobblestone pavement in front of the university building where the founding members were originally arrested.
Geschwister Scholl Platz 1, Maxvorstadt
Get Directions
NEIGHBORHOOD
The Flushing Meadows Hotel & Bar is located in Munich's vibrant Glockenbach district, which roughly translates to "bell's creek", after the small creek that ran thru the neighborhood. As you can image the "bell" part alludes to a former bells manufacturer, who used to be located just by the creek outside of Munich's city walls near Sendlinger Tor over 500 years ago. The Glockenbach area has undergone various developments since: from exile-site for plague patients … to industrial quarter … to red-light district … to skid row … to gay hot-spot. These days, the Glockenbach quarter is known to be especially "happening", thanks to a large variety of boutiques and bars as well as the quarter's easy-going vibe. But we'll let you be the judge of that.
AROUND GROSSMARKTHALLE
Munich's industrial market in Sendling is home to many down-to-earth and hidden restaurants including fish, Greek and Italian spots. Our favorite is probably Friulana, which serves rustic Italian dishes, no frills attached.
For a taste of Munich's premier Weißwurst breakfast, visit Gaststätte Großmarkthalle.  But remember, tradition dictates that one must finish this specific meal before 12 pm!
Kochelseestraße 13, Ludwigsvorstadt, gaststätte-grossmarkthalle.de
Get directions
Zenettistraße 43, Ludwigsvorstadt, friulana.de
Get directions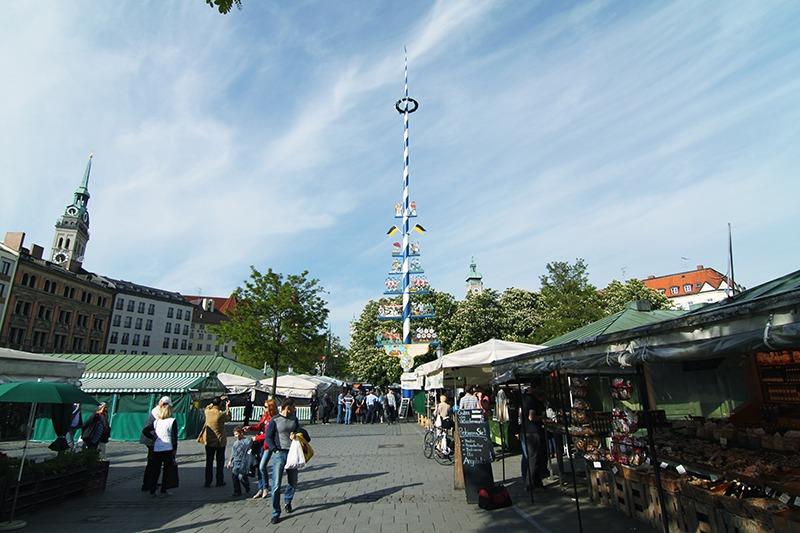 VIKTUALIENMARKT
Munich's traditional market is a must for many reasons – most notably a Weißwurst breakfast featuring sweet mustard, a hot Brezn and cold glass of Weißbier. The Vikzualienmarkt is one of the few places left, where you could witness the local grumpiness, which Bavarians are so well known for. Or used to be. Other Viktualienmarkt options include fish at Poseidon and a visit to the notorious Schmalznudel, which is an early-morning refuge for clubbers, who have the munchies.
Altstadt,
viktualienmarkt.de
Get directions
EATALY
Typically, Munich is infatuated with Italy. And everything which is Italian. That's why Monaco di Baveria is often referred to as Italy's northernmost city. Eataly is the lively testament to this fact. Located just south of the Viktualienmarkt, this gigantic food-court in the Schrannenhalle has you covered. From coffee and aperitivos, to delicatessen, snacks and even Bianchi racing bikes.
Blumenstraße 4, Glockenbachviertel
eataly.net
Get directions